Practical Minimalism
Annaleena L. Karlsson

H

ow to cope with a tiny closet and not to wrinkle clothes that need to be hung? Looking for the best solution I suddenly came across a very stylish and quite untypical design – clothing rails – made by Swedish designer and interior stylist Annaleena Leino Karlsson whose taste in creating has resulted in many collaborations with the biggest players in the industry. Her understanding of simplicity, proportion and the passion for interiors is a real feast for the senses.


Her well-thought handmade 'hangers', stylish magazine holders, modern decorations and accessories, lighting and furnitures can also be used as unique sculptural art.
I would describe Annaleena's style as 'asymmetrically symmetrical' and structural.
Her clean designing and fresh approach towards aesthetic details reminds me of Ingo Maurer, Tom Dixon or Shigeru Uchida to name a few. They traced the history of fashion, graphics and other fields of design from the period immediately following World War II through to the present.
It should be noted here, that since the early 50s Scandinavian style has been associated with highly functional design inspired by nature and the northern climate. In Sweden this 'Modernistic Spirit' called 'funkis' has been transformed into what we today know as Scandinavian Minimalism with all its clean, uncluttered elements and simple lines.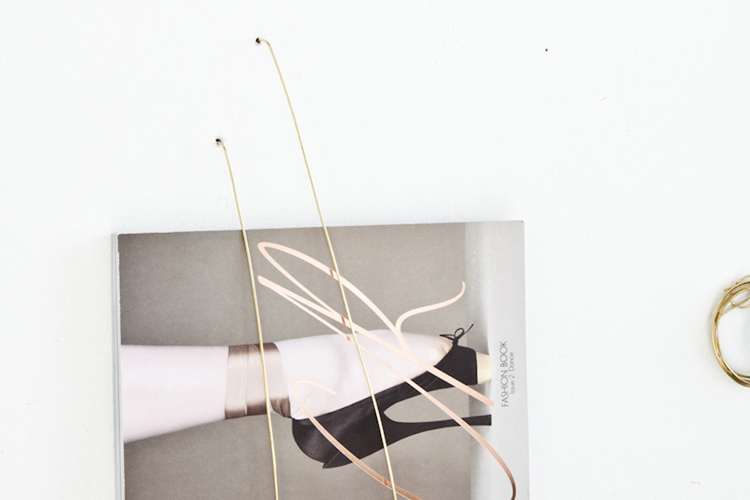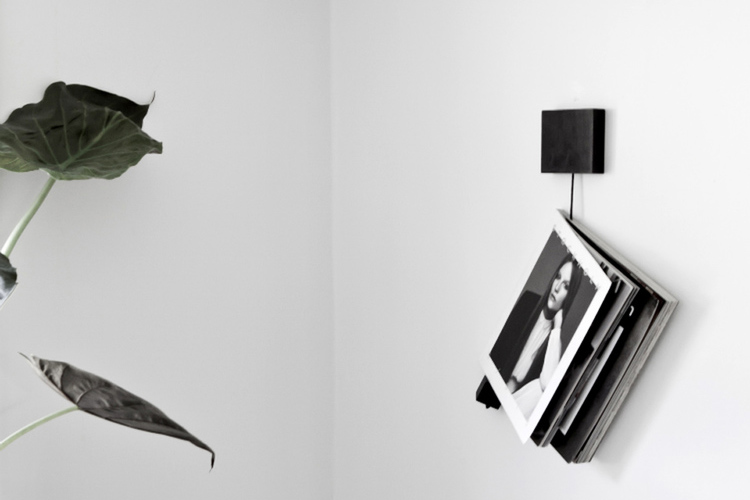 INTERVIEW
Agata Mayer:Why Minimalism? Annaleena L. Karlsson: I didn't really plan to create minimalistic design, I just happened to fall for simplicity and explicitness. A.M. You work with exciting materials. Can you explain your working process? Are your designs developed in the process or do you prepare yourself by making a lot of sketches and technical drawings? A.L.K. My design is developed in processes. Often I choose the material first, and then comes the shape. I usually sketch a rough outline, but the design is mostly developed gradually through samples. A.M. How is it to experiment in the matter of minimalism. Is it just simplifying? A.L.K. Minimalism isn't simple, really. You need to find a balance and a distinctiveness, which takes courage. A.M. Do you have any favorite materials to work with? A.L.K. I prefer raw, genuine materials. Steel is a favorite. Stone as well. A.M. Can you explain what good design is, through the objects placed in your studio / apartment? A.L.K. I believe an object should highlight the character of the room. Bringing beauty to the room, adding a little extra to it - like a pair of shoes that makes the outfit even better. A.M. What fuels you when you are developing something? A.L.K. Innovative ideas. Usually shapes. Explicitness. Things that awakens something within me. A.M. Is there a project that you are particularly proud of? A.L.K. It's hard to pick one. But I love projects where I've been asked to design a custom-made product for a customer and the result is appreciated. Like when I designed a counter for a photographers studio. A.M. You also work as a Set Designer. What qualities does a person need to have nowadays, to become a successful Set Designer? A.L.K. You need to stick out, to dare. And you need to be socially competent. Often you work in different teams, and it is preferable if you like to cooperate… A.M. What defines a beautiful piece of furniture in your opinion? A.L.K. It must have personality, character. A simplistic shape, and be made of natural material - for example stone or wood. A.M. How do you live personally? How important is furniture in your own home? A.L.K. It is really important. I don't own especially many design classics, but I choose carefully every object that gets over my doorstep. A.M. Have you ever thought about entering into the fashion branch and start working with recognized fashion photographers and clothing brands? A.L.K. I'm not planning to, but I wouldn't say no to it. I enjoy different projects. And I also believe that interior design and fashion aren't far from each other. It wouldn't be foreign to mix the two of them, but rather exciting. A.M. Are there any designers that influence you more than others? A.L.K. Absolutely. Faye Toogood from UK, as well as a bunch of Japanese designers. And I also love Finish design. A.M. What do you like to do besides designing? A.L.K. I like to photograph, and to style. To combine these three things are my favorite. A.M. Alright, so thank you for this
All pictures are shot and styled by Annaleena. Check out Annaleena's social channels:
blog & facebook